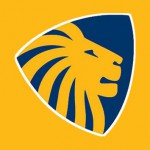 The Pirates' Division 1 team came agonisingly close in the 2015 Waratah Bowl before falling to perennial Champions, the Sydney University Lions by 36-18.
The final score is not a true indication of how close the game was as the Pirates were trailing by 14-12 at halftime, then leading for much of the 3rd Quarter, before the Lions were able to put on some quick points to claim the title.
Injuries certainly played their part during the game as a number of Pirate players left the game and were unable to return and this had an impact on what the Pirates were able to do. But they never surrendered and stretched the Lions until the final whistle.