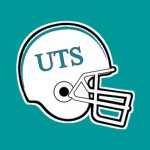 A tough day at the office for the Pirates' Colts. Undermanned and with mounting injuries the Pirates were valiant in a 48-8 loss to a dominant UTS Gators team.
#1 taking on #2 as the Pirates took on the UTS Gators at Craik Park. It started as a defensive battle with the scores locked at 0-0 at the end of the 1st Quarter. This followed by an explosive 2nd Quarter with a Pirates' TD followed by a UTS Kickoff Return for a score followed immediately by a Pirates' Kickoff Return for a TD of their own! The Pirates added another score to make the lead 21-7 at the halftime break.
No scoring in the 3rd Quarter and the Pirates were still leading 21-7. A hectic final quarter with scores going both ways but the Pirates prevail again.
Pirates 33 – UTS 14.
Pirates sit at #1 with a 7-0 record.