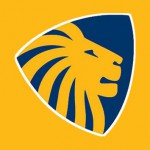 The Pirates Colts are taking on the League-leading Sydney University Cubs in Week 4 of the 2017 competition.
It was a tough start with the Pirates trailing the Cubs 22-6 at halftime.
The West Sydney Pirates' Colts have had a tough day out falling to the Sydney University Cubs by 36-12.
In Division 1 action the Pirates face the Sydney University Lions in a rematch of last year's Waratah Bowl.
The Pirates scored early after a long run by Ray Saipele and took a 6-0 lead.
The Lions hit back with a converted TD to lead 7-6 at the end of the 1st Quarter.
A defensive dogfight in the 2nd Quarter with no addition to the score. It was an exciting game but both teams will be regretting missed opportunities.
At the half it's Lions 7 – Pirates 6
An exciting 3rd Quarter with the Pirates taking the ascendancy. At the end of the period the Pirates are ahead by 18-7.
A tough, tough game of football. Injuries to both sides but neither team gave an inch.
Final score Pirates 18 – Lions 7.
The Pirates move on to a 3-0 record.