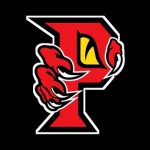 Our Colts had a bye in the final week of the season but our Div 1 had a match up with an under strength and courageous North Western Predators team at Lidcombe Oval.
End of a quick 1st Quarter (it's was a running clock) and the Pirates lead the Predators 7-0. Halftime at Lidcombe Oval, and to the accompaniment of jubilant Tongan Rugby League fans outside the ground, the Pirates lead the Predators 13-0. End of the 3rd Quarter and the clock is running. Pirates lead 20-0.
Final score Pirates 34 – Predators 0
Pirates finish the Regular Season undefeated and with the #1 seed into the Playoffs.
A big shout out to the North Western Predators who came into this game missing a large number of players. Other teams may have forfeited but not the Predators. They played with heart from start to finish. Thank you and well done.