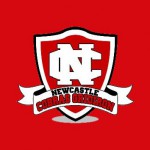 While the Pirate Colts were enjoying a week off the Pirates' Division 1 team continued on their winning ways with a hard fought win over the Newcastle Cobras in Newcastle in week 4 of the GNSW competition. The 54-13 score line does not give a true indication of the physical nature of the game though and the Pirates were made to work hard for their win from start to finish.
The Pirates overcame a slow start and went on to hold a commanding lead at halftime. But the second half was somewhat indifferent and that's an issue that the Pirates will need to work on in the weeks ahead.
Make no mistake, the road trip to play Newcastle in the Hunter will become a big challenge in the very near future as the Cobras are on the rise.
In week 5 action the Pirates take on the Northwestern Predators.